So I am participating in Mama M's Five question Friday. I might figure out how to add her cute little button (I did it), but no promises. Work is calling, so I gotta think quick. Sorry for the many spelling mistakes that will follow :)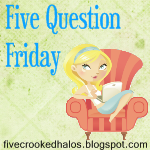 1. What is one food you could eat everyday? Hands down-Grilled Cheese....With basil, and sometimes canadian bacon inside too. On sourdough bread. Am I picky with my grilled cheese, well yes. But, due to this diet that I am on, grilled cheese has not graced my stomach for 5 weeks. And oh how I crave it.
2. Are you working in the career you thought you would be when you were 18? Yes. But even better. I never dreamed that I would have a job like this, where I got to work from home, do what I love, and live in a different state other than CA. I never could have imagined that my life would be like this when I first was starting college, but I am very happy right now. I love my career!
3. What is something that you wish you would have done when you were younger and you didn't?
I honestly can't think of an answer for this one. I guess it could be that I am only 24 and think that I can do anything still, and EVERYONE is young at heart-so who's to say that age matters when you want to do something?
4. What color are your kitchen walls?
Red, and a cream. Dru and I got bored and creative one winter day and they got painted Red.
5. Do you remember what your very first favorite song was?
I don't, but I am sure that it was probably something country. I loved listening to country songs with my family when we would go camping, or to the lake. Brings back good memories. Country music makes me think of summer, and swimming, and playing in the dirt, and family.