Here we are, we have arrived at Friday yet again. I don't know how the weeks go by so fast and Friday just seems to appear. But its HERE!!! Yay. But it is Friday the 13th. Are you Superstitious? Or just Super?
I am going to pretend like I am just Super and this Friday is going to be Super as well.
Five question Friday from Mama M. Is on again. Mama M is great, and you should swing over and check her out if you have not already. She is a fellow Minnesotan, I wonder if she has a stupid storm watch alarm that woke HER up a MILLION times last night.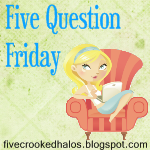 Dearest husband Dru, yes it is thunder and lightning outside-I can hear it. BUT.....I don't need a blaring alarm telling me that it is on its way. No less than 5 times in the night. Seriously not cool.
1. Have you ever visited another country?
What are we calling a "visit"....I have gone on vacation to Mexico, and Tahiti where I was in the country for a specified time period, and then went home. But I "visited" Sweden for around 10 months. It was more of an extended stay and I was legally in the country via my Visa. But I guess that it can be considered an extended visit. I also went to Denmark to say hi and buy some beer!
2. Where is the strangest place you have ever been?
Yet again I don't understand the "strange" part of this question. I have been in some questionable situations and places throughout my lifetime. But one is not popping out in my mind as the "strangest" at this moment.
3. What is your favorite season?
Depends on what part of the country I am living in. It was summer. But these last few days of summer here in MN have left me with a bad taste in my mouth. It is not summer if I can't go outside and enjoy it without sweating buckets, and getting attacked my Mosquito's. But summer at the lakes at home were always great. I must say that I am looking forward to Fall. I love it when all the trees change color. There is a little nip in the air to the point that I can wear cute boots and jackets, and we can sit outside and enjoy a bonfire.
4. What one song will always cheer you up?
I am more of a song of the moment type of girl. I don't listen to music that much unless I am driving in the car. And I don't drive that many places lately. So I don't have a song that cheers me up. Songs usually have the opposite effect on me, and make me cry.
5. What Disney character do you resemble most?
Pshhhh. Disney character? I don't resemble a Disney character at ALL. But I am a princess at times and I will be out in Ca at some Disney stuff next week. So maybe I will find myself a character to resemble then?
Have a great Friday everyone! And make it SUPER