Five Question Friday! Thanks Mama M. for hosting this fun piece of Internet blog hoppin on a Friday. I look forward to it each and every week.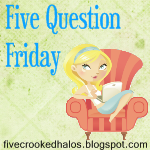 1. Do you know what your REAL hair color is?
Do you know what your REAL body looks like? Like what god really intended it to look like? Because that is how I feel about hair color. Hair color is something that god and the two people who created you when you were born (thanks mom and dad, best gift ever) gave to you, yet you are really intended to shape it and make it YOU! So nope my real hair color is a mystery to even myself, but I am happy with it the way that it is. I like the fun and mystery of "creating" something that looks good on my head. Kind of like the plans that I have for this body of mine, it will someday soon be the rocking hard body that intend it to be, just needs a little work :)
2. Do you plan ahead for summer, or fly by the seat of your pants?
I am a planner. I think that I get this trait from a little bit of ADD that I have noticed more and more lately. I like to have things on my calendar and reminders to tell me how awesome the summer is going to be. This summer consists of many many weddings of beautiful women and their soon to be spouses all taking place in California on different weekends. I am working the calendar as best that I can to include tons of fun and celebration with each and every bride but I don't have all the details set up yet. Sept 10, 2011 I will be celebrating with my handsome brother and his beautiful soon to be bride and the rest of the families. In August I will help Dru show Alex how much we love and support him in his new married life...These are 2 weddings that are locked and loaded on the calendar-the rest I need to do more detailing to and clone myself to be working in my office in Minnesota where I really should be celebrating with friends in California.
Wow I got a little bit on anxiety thinking about weddings. How I want to be at each and every one of them.
3. What is your favorite meal to cook?
I like to cook things that I know will be sure to please. A great dip that is truly amazing, finger foods that make the day, small bites to pass around. Except I love making lasagna for people. I love seeing the look on their faces when they eat my food and know that they love it. I have been craving the "stuff" for a while now, and really want to make that soon. Spinach, Feta, Bell Peppers, cheese, broccoli, all packed in a cute dough baked to perfection. yuummmm
4. Do you get offended by not receiving thank yous?
I did not used to care. But now that I went through the whole marriage process I think that the answer is yes. I really like thank yous. Even if it just was something small that you did for a friend. Thank yous are a great way to know they care and that you appreciated the caring gesture. The cuter the better.
5. How did you meet your best friend?
I met my first true best friend when I was really young. She was a stunningly blonde little girl who lived in my tiny town. We just fit! This little girl has now grown up to be a beautiful woman living life to the fullest. I am happy to say I got a text the other day about her getting a job and my heart was overwhelming happy for her. I love you Kate.
A girl can have more than one bf? Right? Well I say yes and this is my blog so roll with it. College is another place that I met 2 girls who I can call my best friend. We are all different as different can be right now in our lives, but I don't have a moment that I know I couldn't call either of them up and things would be just the same no matter what time of day, day of week....or whatever. We are best friends because we have that faith in each other, compassion always and love.
And now I have great women in my life here in Minnesota. I think that the more "best friends" a girl can have the better. Lorayne is someone that I would truly call a best friend. She is there for me always and we have so much fun together.
That's it for FQF "devastation" edition. Hearing about the horrible earthquakes and tsunami's this morning makes me so sad. I hope that everyone is safe and my thoughts are with those dealing with such
tragedy
.